We've been overwhelmed with positive feedback!
Thank you so very, very much for everyone's positive feedback! We also received tons of emails from our happy customers! Thank you for those as well!
xoxoxox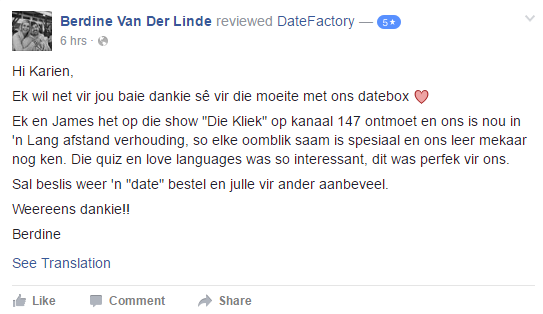 For the latest feedback, go to our Facebook page by clicking here
Survey!
We did an anonymous survey with our past clients, and this is what happened:
Question: How did you feel after using your box, was it what you expected?
Felt quite silly but in a good way. Was lots of fun
It was more than what we expected – good for relationships
It was lovely, it really was quality time that we spent together. Better than expected!
Perfect dessert for our valentines day picnic
Even better
We had no expectations as this was a new experience. Perhaps a bit of a heads up to prepare the space first, we hurried around putting out the lights and finding a suitable space only after we opened the box and saw what was inside
it was much more than I expected
Better than expected
I was very happy! My partner and I had just moved so there was a lot of stress in our relationship. It was the perfect way to break through that and just have a fun night together
Great
i thought it would be a graet anniversary present for my married friends
it was lovely thank you, very unexpected
It was fun
Question: Do you think it is value for money?
Thank you for the brilliant idea, all the effort and care that you put into each and every thought in our date box
Thanks for the effort you've put in
A great idea and will definitely buy again
love the idea, love the surprise!
I have recommended it to others
Thank you for a great idea! I think my wedding gifts are sorted for the rest of my life! 😉
what a great ideah it really brought me and my husband closer and do something we wouldnt normally do.
I love the attention to detail and obvious thought and effort that was put in. The cards had a fairly big mistake but just as I was beginning to be confused by that I found a correction note. I don't remember if it was asked how long my partner and I had been together but I feel like this may be an important factor to consider when designing the boxes. Some activities may be too intimate for new couples. We loved every minute of our box though. What a great night we had!
thank you xxx